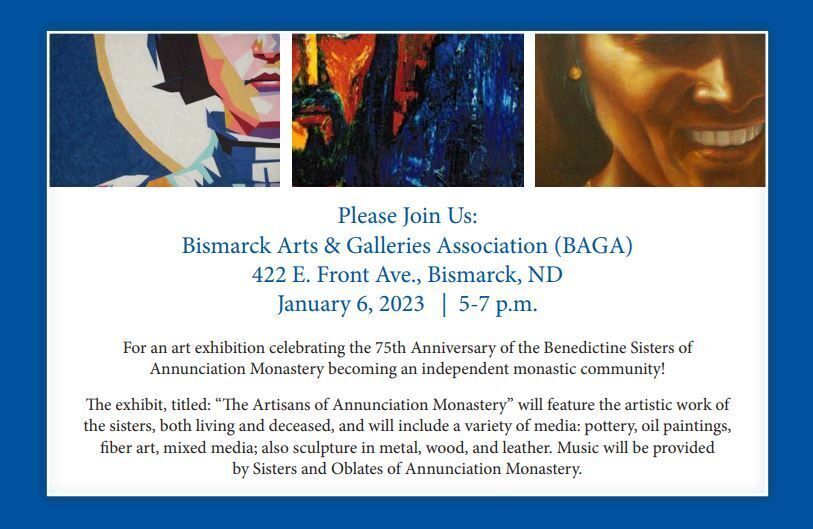 The art of the Benedictine Sisters of Annunciation Monastery, Bismarck, will be displayed as the sisters celebrate their 75th anniversary as an independent monastic community in this region. They established education and healthcare in Dakota Territory, and brought with them deep faith and a commitment to serving God's people.
The sisters live according to the Rule of St. Benedict, a guide to daily living, which is centered around God and community. Artisans of the monastery are encouraged to practice their craft with all humility, and with permission from the monastery superior. St. Benedict reminds us that the artist creates, not to bring attention to oneself, but to glorify God and bless others rather than making profit.
This art exhibit showcases the sisters' art through the years. From paintings to pottery, from art quilts to a vintage doll house, there will be something for everyone to enjoy. Music will be provided by Sisters and Oblates of Annunciation Monastery.
Sister Nancy Gunderson will unveil her latest artistic creation at 5:30 p.m., and will lead you through a brief history of the significance of art to the Benedictine Sisters of Annunciation Monastery through the decades. Many of these pieces have been carefully stored in the monastery archives, a trove of artistic treasures. Sisters and friends will provide music during the exhibit reception to be held
*The art exhibit will run through January 27, 2023