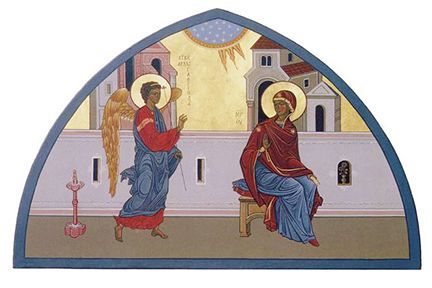 Reflection – Feast of the Annunciation
Sister Nicole Kunze, Prioress
March 25, 2023
In reflecting upon Mary's fiat, her yes to God, I am pulled into the ordinariness of the event. Luke's Gospel doesn't provide a picture of the setting, but artists over the years have shared their ideas of it. I continue to be drawn to Henry Ossawa Tanner's painting of the Annunciation. It appears that Mary is in a simple bedroom when the angel Gabriel arrives in the shaft of light. What was she doing at that moment? It is hard to say, it doesn't appear that she was in the midst of any particular household task. Maybe she was in the middle of her daily prayer when the angel came on the scene. Lacking any details, we can choose the scene for ourselves.
This past Advent, I read The Reed of God by Caryll Houselander for the first time. What a wonderfully rich book! In the section entitled Fiat, Houselander writes about the ordinariness of Mary's life. "She was not asked to lead a special kind of life. She was simply to remain in the world. She was to give Him her daily life." God is asking the same thing of each one of us. God is asking us to be faithful to the commitment we made as members of this monastic community. We are to offer the dailyness of our lives, the tasks, duties, and activities that compose it all. Benedict set for us a way of life where the daily schedule repeats over and over again and we are asked to show up, to participate in that life each and every day. After more than 25 years of monastic life, I'm finding my relationship with God growing deeper through the dailyness of the liturgy of the hours, the Eucharist, and my personal prayer and reflection. There may be an epiphany now and then, but it's the ordinary things of life where I'm finding God and feel I'm living out what He is asking of me.
So, I would ask us to consider: In my ordinary life, can I say yes to God?