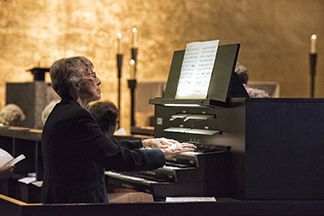 Sister Agatha Muggli Celebrates 60th Anniversary of Monastic Profession
Sister Agatha Muggli will celebrate the 60th anniversary of monastic profession as a Benedictine Sister of Annunciation Monastery on July 11, 2023, in a private ceremony at Annunciation Monastery.
She is grateful to have grown up on a farm near Miles City, Mont., surrounded by a loving family. She is the youngest of ten children born to the late Joseph and Barbara (Schmidt) Muggli. Life on the farm gave her a deep appreciation of the outdoors. From a young age, she loved to walk and explore the land and search for wildflowers. Her appreciation for life and growth as gifts from God laid the foundation that would eventually serve her well as a Benedictine Sister of Annunciation Monastery.
The Muggli family worked hard on the farm, but Sundays and Holy Days of Obligation were days of relaxation. Mass was an absolute while afternoons were filled with fun and family. In her youth, she had never considered becoming a sister or a teacher--quite the contrary. She believed those were two vocations she would not choose! Over time, that belief was softened by God's gentle nudging. Fleeting thoughts of religious life became more frequent and resulted in her contacting the Sisters of Annunciation Monastery to explore the idea of becoming a sister. "It felt like this is where I should be," Sister Agatha recalls. "I decided to become a Benedictine Sister of Annunciation Monastery (then Priory) sort of on the recommendation of my cousin, Eunice, and her husband, Chick Swenson, who raved about 'the beautiful priory on the hill.' They had given the sisters the first 25 acres of land on this site." She marvels at the growth that happened on this hill and appreciates the strong connection between the sisters and the University of Mary.
Sister Agatha made first monastic profession on July 11, 1963. She earned a Bachelor of Arts degree from the College of St. Scholastica, Duluth, Minn. Sister Agatha says she always enjoyed music. Her mother encouraged her to practice piano faithfully and her father sometimes sang Stephen Foster songs in the home. She learned to play the organ during her time in college. She says she "learned music by teaching piano." She taught music and piano at Cathedral in Bismarck, and at St. Joseph's and Christ the King in Mandan.
In 1971, then prioress Sister Kathryn Zimmer urged Sister Agatha to obtain a master's degree in Fundamental Catholic Spirituality from Duquesne University in Pittsburgh, Pa. This prepared her to guide women in the beginning stages of becoming members of the monastery. She worked in initial formation at Annunciation Monastery prior to serving in the University of Mary placement office. In 1992, she was asked to serve as subprioress for the monastery, serving in this capacity for eight years, under the leadership of prioresses Sister Susan Lardy and Sister Susan Berger.
In 2000, Sister Agatha became full-time initial formation director at Annunciation Monastery. She is novice director and chair of the Initial Formation committee at Annunciation Monastery. She is devoted to her work as liturgist, musician, and organist for the sisters and is the resident caretaker of the beautiful plants throughout the monastery. She has served as councilor and vice president of the Federation of St. Benedict, was an active member of the American Benedictine Formation Conference, is on the University of Mary board of trustees, and serves on the Mission Effectiveness committee at CHI St. Alexius Health.